But beware of people, for they will hand you over to courts and scourge you in their synagogues and you will be led before governors and kings for my sake as a witness before them and the pagans. When they hand you over, do not worry about how you are to speak or what you are to say. You will be given at that moment what you are to say. For it will not be you who speak but the Spirit of your Father speaking through you. 
Mt. 10:17-20 from the Readings for the Memorial of Saint Andrew Dũng-Lạc, Priest, and Companions, Martyrs
There are quite a few topics that I think I could talk about for days. The greatness of the ribeye steak, the experience of serving as chaplain for the Bucs, the grandeur and natural beauty of our country are all themes which I could easily get carried away with. Because I've experienced those things I can easily share about those things. Please God, because I've experienced the Father and spent time with His Son, the Spirit can also speak through me. Our invitation in this Gospel is to recognize that there is a way to follow Jesus Christ that radically impacts our ability to give witness to Him. While study helps and avoidance of sin certainly improves, intimate experiences of the Father's heart proves to be the greatest advantage for giving witness in the world. 
How might I give myself to knowing the Father more today?
Jesus, help me to know the Father as you know the Father?
Today's Reflection is by: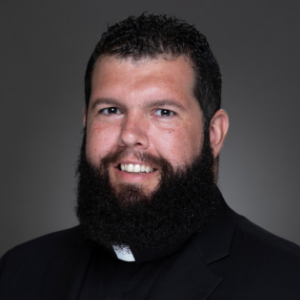 Fr. Chuck Dorquast
Did you know...
 
Fr.  Chuck Dornquast is a son of St. Joseph Parish in Zephyrhills. After graduating from Zephyrhills High School he entered the seminary where he would spend the next 9 years. While in seminary he spent time at many of our diocesan parishes and discovered more and more the heart of Christ the High Priest within him. After ordination, he spent his first 4 years of priesthood as the associate pastor of St. Lawrence in Tampa. He currently serves the Diocese of St. Petersburg as the Director of Vocations.
Pray with us for the men and women discerning the priesthood and religious life. To pray for our seminarians by name or to find out more about the Diocese of St. Petersburg vocations office, click here.