"Jesus said, 'My kingdom does not belong to this world.'"
John 18:36
Today we celebrate the solemnity of Our Lord Jesus Christ, King of the Universe. In this feast, we recognize that all creation comes from God through Jesus, the Christ. "In Him, we live and move and have our being," as Paul reminds us. Jesus recognizes the truth of his being king but is clear that being king is not what humans think it is. He will not lord it over others, nor will he crush the weak. He will witness to the truth that all belongs to God and is sustained in God.
Jesus invites us to accept this truth and to witness to this truth. It is good news that we belong to this kingdom of God's creation, a kingdom into which God came as a human in the person of Jesus that we might believe in God's great love for us. We can believe, even when we do not understand, that Jesus truly is the Alpha and Omega, the beginning and the end, that all belongs in God, and Christ is in all.
As we come to the end of this Church year, we can confidently put the past into the hands of God and look with hope to the year ahead, knowing that even when things seem dark and confused, we have a king who holds all of creation as it unfolds.
What do you think of this king who preaches love, kindness, and forgiveness?
Jesus, you are the Christ, King of all creation. All praise be yours! Amen.
Today's Reflection is by: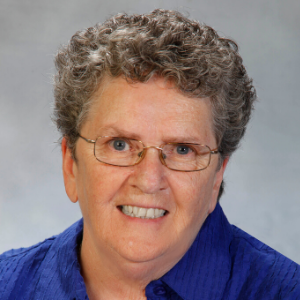 Sister Cathy Cahill, OSF
Did you know...
Sister Cathy Cahill, OSF, is a Franciscan Sister of Allegany who has been ministering in the diocese since 1989, primarily in retreat work and spiritual direction, She is a member of the community at St. Clare Convent in Tampa.