He said, "I tell you truly, this poor widow put in more than all the rest; for those others have all made offerings from their surplus wealth, but she, from her poverty, has offered her whole livelihood." -Luke 21:3-4
In today's Gospel we are reminded of the necessity of generosity in the Christian life. While money is the object in question in this passage, the truth is we are called to be generous with all of our resources. There is no aspect of our selves that is meant to be kept completely for ourselves. Just like Jesus, we are fully alive when we are pouring ourselves out as gifts for others in His name. But now we must face the fact that as humans there is only so much we can do. We are finite beings that must make decisions and sacrifices on how we want to spend our talents, energy, and time. Are there idols in our lives that are drawing us away from being generous with our resources? Few Catholics actively deny giving their talents or time to the Church but simply don't consider it because of "more important things." Worshipping false gods in the Old Testament was usually done with the sacrificing of animals. However, today it is done with the sacrifice of time to things like sports, our phones, personal luxuries. Be generous in all that you have to give, not just money.
What are the "last two coins" that I am being called to give for the Lord?
Jesus, set our hearts ablaze with a radical generosity of ourselves.
Today's Reflection is by: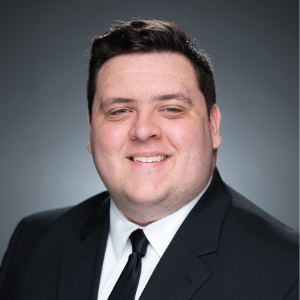 Nicholas Gunn
Did you know...
Nicholas Gunn is a seminarian for the Diocese of St. Petersburg. His home parish is Our Lady of Lourdes in Dunedin. He enjoys traveling, hiking, reading, video games, theater, stand-up comedy, and spending time with loved ones. He is an avid football fan, and while he loves the Bucs, the New York Giants are his team of choice. 
Pray with us for the men and women discerning the priesthood and religious life. To pray for our seminarians by name or to find out more about the Diocese of St. Petersburg vocations office, click here