The way we came to know love was that he laid down his life for us; so we ought to lay down our lives for our brothers. If someone who has worldly means sees a brother in need and refuses him compassion, how can the love of God remain in him? Children, let us love not in word or speech but in deed and truth.
1 Jn. 3:16-18 from the Readings for the Memorial of Saint Elizabeth of Hungary, religious
I love weddings. I love marriages. They are perhaps capable of being the greatest manifestation of who God is. Marriage requires such incredible generosity and self-gift. Marriage even has, as a fruit, the multiplication of this generosity and self-gift as it brings forth life into this world.
Today our Church remembers St. Elizabeth of Hungary who with her husband King Ludwig of Hungary radically impacted the world around them by their generosity. St. Elizabeth and her husband demonstrated the remarkable beauty of marriage when lived out in a spirit of complete entrustment to God and generosity to neighbor. May we be blessed in our diocese with many such marriages and may our couples look to the examples of St. Elizabeth and King Ludwig.
How can I learn more about St. Elizabeth of Hungary?
Lord, may you bless our diocese with an abundance of Holy marriages!
Today's Reflection is by: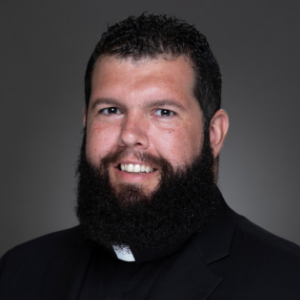 Fr. Chuck Dornquast
Did you know…
Fr.  Chuck Dornquast is a son of St. Joseph Parish in Zephyrhills. After graduating from Zephyrhills High School he entered the seminary where he would spend the next 9 years. While in seminary he spent time at many of our diocesan parishes and discovered more and more the heart of Christ the High Priest within him. After ordination, he spent his first 4 years of priesthood as the associate pastor of St. Lawrence in Tampa. He currently serves the Diocese of St. Petersburg as the Director of Vocations.
Pray with us for the men and women discerning the priesthood and religious life. To pray for our seminarians by name or to find out more about the Diocese of St. Petersburg vocations office, click here