"He is not God of the dead, but of the living"
Luke 20:38
Today's readings proclaim a significant theme that may cause anxiety for many, even among us who dare to call ourselves Christians. The First Reading and Gospel include references to death; King Antiochus sits in agony as he approaches death, recalling the great destruction of his actions. While Jesus is challenged by the Sadducees on marriage and life after death, Christ acclaims that the resurrection is not a mere imitation or continuing of earthly life but so much more!  
Antiochus and Jesus' depictions of death remind me of a priceless notion in the Rule of St. Benedict to "keep death daily before your eyes." Indeed, with the many responsibilities, commitments, or ministries we busy ourselves with, how often are we stopping to think that this earthly life will conclude at an unknown time and date? As my novice master once challenged me, are we ready to stand before the Lord this evening? Hopefully, as we stop and think, we may uncover areas we may improve, such as how many relationships with our neighbors and especially with the Lord need to be strengthened or reconciled?
As we pray especially for the dead this month, I invite you to join me in considering how we will approach death or courageously prepare for it? Will we be like Antiochus, "overwhelmed with sorrow" by our unreconciled sins, or like those "children of God"
"God of the living, help me live in and with you!"
Today's Reflection is by: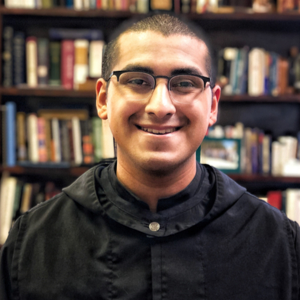 Lucius Amarillas, OSB
Did you know...
Brother Lucius Amarillas, O.S.B., is a monk of Saint Leo Abbey. He was born in California but grew up in Las Vegas, Nevada where he served as a catechist in his parish. After coming to study at Saint Leo University, he decided to join the Benedictine monks at Saint Leo Abbey where he currently serves as Prior of the Monastery, the Abbot's right hand that assists him in caring for the monks and their needs. Br. Lucius is also an adjunct professor of theology at Saint Leo University. Following his July 11 ordination to the diaconate, Br. Lucius will be finishing his studies for the priesthood for ordination to the presbyterate at the end of the year, God-willing.